Tweet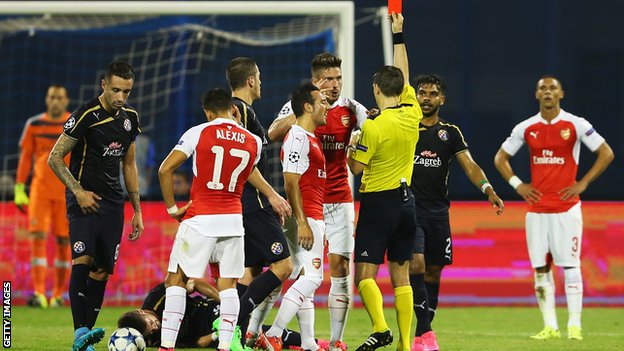 I had recently succumb to a level of gullibility and naivety when it comes to Arsenal's forthcoming season, all was looking reasonably positive, well that was until a trip to Zagreb which saw Arsene Wenger become the first manager to lose 50 Champions League games. That isn't the only record he broke, he helped Arsenal become the first English team ever to lose to Dynamo Zagreb.
So where did it all go wrong I here you ask? Wenger left Hector Bellerin and Aaron Ramsey in London with the trip to Chelsea in mind, not that I had much of a problem with that. He strangely dropped Petr Cech to the bench following three clean sheets in his opening five games, he dropped Francis Coquelin for the yet again ineffective Mikel Arteta. Arteta unbelievably made no tackles last night which just highlights how far from being a successful defensive midfielder he really is, let alone someone that is captain material.
Wenger dropped Theo Walcott to the bench, even though he has score 11 goals in his last 11 starts for the club, Giroud had a nightmare performance culminating in a double booking resulting in a red card. This all but cost Arsenal the game, with the visitors having to play 50 minutes with a man disadvantage.
For many Walcott should have started , Zagreb started with a high-line and it would have been perfect for Walcott to take advantage, not for the first time Wenger got his tactics and team selection horrendously wrong.
Following the almost predictable 2-1 loss, Wenger rolled out the excuses. The French boss stated that "we were unlucky" and that the "referee didn't have his best game", that being said he should surely take a huge amount of blame for the lackluster start and repetitive arrogance that he approaches certain games with, especially against the so-called "minnows".
In the Champions League it is by no means the end, but they have made qualifying a lot more difficult and will need to take some points off an impressive Bayern Munich side, a Munich side that really know how to play Arsenal as many do.
Arsenal travel to Chelsea on Saturday and will need to put in a big performance to appease the fans, Chelsea had an encouraging 4-0 win or-be-it against a very poor Maccabi Tel Aviv side.
The one thing that many can, and will take from the poor display is that the two positions of defensive midfielder and striker that were not addressed this summer are the two holes that are glaringly obvious within the squad. Arsene Wenger will claim that he has two players for every position, this may be true but last night proved the quality of depth is still not there.
Gooners should not be surprised if once again there is a last 16 exit in the Champions League followed with the oh-so typical fourth placed finish.